Best New City, NY Roof Replacement and Installation Contractor
Get in touch with us today!
Roof Replacement & Installation in New City, NY​
But finding the right roofing contractor in New City NY roof replacement can be daunting. Choosing a company that prioritizes customer satisfaction and has a history of producing high-quality work is essential. You don't want to entrust your roof, and ultimately the safety and integrity of your home, to anyone.
Your shingles suffer severe wear and tear from exposure to the sun, wind, and rain over time. An old and damaged roof may be the source of leaks and will no longer insulate as well as it once did. Furthermore, the situation will deteriorate over time, potentially leading to even more costly repairs. Therefore, replacing your roof when necessary is crucial rather than waiting until it's too late.
You're in luck if you want to replace your New City, New York roof. Precision Roofing Inc. is the best roofing replacement contractor in the area, with a team of trained and licensed professionals dedicated to meeting your needs and ensuring your safety. Replacing a roof is a significant investment, so we use only the highest-quality materials to ensure the manufacturer's warranty remains effective.
Here are the roofing services we offer in New City, NY:
Protect Your Home With High-Quality Roofing Installation Services in New City, NY
A properly installed roof protects your home from the elements and maintains its structural integrity. A good roof can last for many years, saving you money on repairs and replacements in the long run. In addition to its practical benefits, a new roof can also improve the appearance of your home, increasing its value and curb appeal.
When finding a reliable roofing contractor in New City, New York, look no further than Precision Roofing Inc. We are a trusted and respected company in the area, known for providing high-quality roofing services to our customers. Our team of trained and licensed professionals is dedicated to delivering the best possible results, no matter the size or scope of the job.
Extend the Life of Your Roof With Comprehensive Re-Roofing Services in New City, NY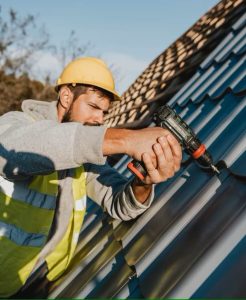 Regardless of the materials used or how carefully constructed, roofs eventually deteriorate due to constant exposure to the weather. Your roof takes a daily beating from the elements, so it is to be expected that it will develop a variety of roofing damage over time. This can range from small cracks and leaks to more significant issues like missing shingles or a collapsing structure.
If you are a homeowner, dealing with roofing damage can be stressful and disruptive to your daily life. Addressing these issues as soon as possible is essential to prevent further damage to your home and ensure your family is safe and comfortable. That's where Precision Roofing Inc. comes in.
As a trusted roofing contractor in New City, NY, we offer re-roofing services tailored to each homeowner's needs and budget. Re-roofing is the best way to save money on energy costs, improve the property's curb appeal, and extend the life of your roof. By replacing your old, damaged roof with a new one, you can rest assured that your home is protected from the elements and that any potential issues have been addressed.