Roof Emergencies in New City, New York
Get in touch with us today!
Roof Emergencies in New City, New York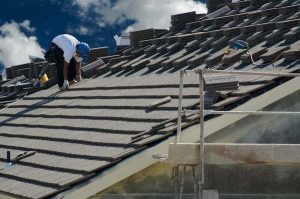 Roofing crises only sporadically occur during regular business hours, as Precision Roofing Inc. is aware. Because of this, we provide urgent roof repairs in New City, New York. Our team of skilled and educated roofers can handle any New City NY roofing emergencies you may have.
Various factors, including storms, falling trees, and intense sunlight, may harm your roof. These flaws can result in even more serious difficulties, like water damage, mold growth, and decreased energy efficiency if not addressed. Because of this, it's critical to take early action to stop your roof from suffering additional damage.
Here are the roofing services we offer in New City, NY:
Precision Roofing Inc. Offers Emergency Tarping and Repair Services For Damaged Roofs in New City, New York
Your home or building's roof is essential to shield you, your family, or your employees from the weather. Sadly, it is also susceptible to several calamities and disasters, such as hurricanes, fires, and other unforeseen incidents. Acting quickly when your roof is damaged is crucial to avoid more issues.
If you need professional New City, New York roof tarping or emergency tarping services, Precision Roofing Inc. is here to help. Our team of qualified experts is always available to assist you. When you call us, one of our team members will inspect your home or building and assess the damage to your roof. 
Quick and Dependable Emergency Roofing Services in New City, NY
When your roof suffers damage, it can be a stressful and overwhelming experience. You may be worried about water damage, structural damage, or other problems that could arise if the issues are not addressed promptly. That's why it's so important to have access to an emergency roofing service near you that you can rely on to handle the issues quickly and effectively.
If you live in the New City, NY, area, you can turn to Precision Roofing Inc. for all your emergency roofing needs. Our team of experienced and skilled professionals has handled hundreds of roofing emergencies in the area, so we know exactly what it takes to fix the problem and prevent further issues from occurring.
24/7 Emergency Roof Repair Services in New City, NY: Quick Solutions Anytime With Precision Roofing Inc.
Nobody wants to wake up in the middle of the night to deal with a crisis, but if your roof isn't strong enough to withstand a storm, this may be your situation. Emergencies on the roof require immediate attention, whether the problem is a new leak or a fallen tree. As a result, Precision Roofing Inc. is pleased to provide emergency roof repair services available 24 hours a day, seven days a week, to our residential and commercial clients in New City, NY. 
If you require immediate roofing services, call Precision Roofing Inc. right away. Our team is ready to inspect and repair any problems with your roof at any time of day or night. Call us now if you require prompt, dependable, and always-available emergency roof repair services.