Roof Emergencies in New City, New York
Get in touch with us today!
Roof Emergencies in New City, New York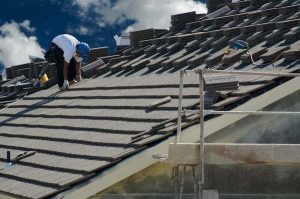 Various factors, including storms, falling trees, and intense sunlight, may harm your roof. These flaws can result in even more serious difficulties, like water damage, mold growth, and decreased energy efficiency if not addressed. Because of this, it's critical to take early action to stop your roof from suffering additional damage.
Roofing crises only sporadically occur during regular business hours, as Precision Roofing Inc. is aware. Because of this, we provide urgent roof repairs in New City, New York. Our team of skilled and educated roofers can handle any New City, NY roofing emergency you may have.
You can rely on us whether you have a roof leak, storm damage, or any other emergency. As a professional and trustworthy roofing company in New City, NY, we are dedicated to offering top-notch services as soon as possible to lessen the effects of the damage on your house or place of business.
So don't hesitate to contact us if you want emergency roof repair. Our experts will assist you in getting your roof back to its ideal state as soon as possible. We have the knowledge and expertise to do the operation effectively, whether you require maintenance or replacements or you want to plan routine checks to avoid repeat emergencies.
Precision Roofing Inc. Offers Emergency Tarping and Repair Services For Damaged Roofs in New City, New York
Your home or building's roof is essential to shield you, your family, or your employees from the weather. Sadly, it is also susceptible to several calamities and disasters, such as hurricanes, fires, and other unforeseen incidents. Acting quickly when your roof is damaged is crucial to avoid more issues.
If you need professional New City, New York roof tarping or emergency tarping services, Precision Roofing Inc. is here to help. Our team of qualified experts is always available to assist you. When you call us, one of our team members will inspect your home or building and assess the damage to your roof. We will then provide you with a detailed plan for repair or replacement, ensuring that your roof is restored to its original condition as quickly as possible.
Whether you are dealing with a small leak or significant damage, you can count on us to provide the expertise and care you need. We take great pleasure in our attention to detail and dedication to client satisfaction, and we will spare no effort to make sure your house or other structure is completely safe. So if you need emergency tarping or any other roofing service, don't hesitate to contact us. We're here to assist you in restoring your roof to its top shape as soon as possible.
We Can Perform Your Roofing Emergencies In New City, New York
When your roof suffers damage, it can be a stressful and overwhelming experience. You may be worried about water damage, structural damage, or other problems that could arise if the issues are not addressed promptly. That's why it's so important to have access to an emergency roofing service near you that you can rely on to handle the issues quickly and effectively.
If you live in the New City, NY, area, you can turn to Precision Roofing for all your emergency roofing needs. Our team of experienced and skilled professionals has handled hundreds of roofing emergencies in the area, so we know exactly what it takes to fix the problem and prevent further issues from occurring.
Our emergency roofing services are available 24/7, so you can rest easy knowing your roof is always safe. Whether you need emergency repairs or replacements or want to schedule regular maintenance to prevent future emergencies, we have the knowledge and expertise to do the job right.
Contact us today; let us handle all your roofing needs; you have a team of trained professionals to help protect your home even in an emergency.
24-hour Emergency Roof Repair Services in New City, NY
Nobody wants to wake up in the middle of the night to deal with a crisis, but if your roof isn't strong enough to withstand a storm, this may be your situation. Emergencies on the roof require immediate attention, whether the problem is a new leak or a fallen tree. As a result, Precision Roofing is pleased to provide emergency roof repair services available 24 hours a day, seven days a week, to our residential and commercial clients in New City, NY. Suppose the security of your home or place of business has been jeopardized. In that case, our local roofing specialists will visit the location as soon as possible to stabilize and repair your roof!
Common Causes of Roofing Emergencies
Wind
The roofing materials on your commercial property can be torn off by strong winds, leaving it vulnerable to problems like heat loss, leaks, and more. Tree branches falling from surrounding trees can cause cracks and holes in your roof.
Ice
Your roof is readily damaged by ice accumulation. Due to the melting liquid, there is a higher chance of leaks when temperatures rise in the spring. Roof leaks that are not repaired can cause dangerous mold, rot, and severe structural damage.
Installation Errors
If your roofing system was installed incorrectly or you put off a maintenance check for an extended time, it may fail sooner than expected. Fortunately, having your roof inspected and repaired regularly can reduce the likelihood of problems occurring in the middle of the night, saving you a lot of money and a lot of stress on future repairs or replacements.
Call Precision Roofing for 24/7 Emergency Roof Repairs
If you require immediate roofing services, call Precision Roofing right away. Our team is ready to inspect and repair any problems with your roof at any time of day or night. We are available whenever you need immediate assistance, as protecting and securing your home or place of business is our top priority. Call us now if you require prompt, dependable, and always-available emergency roof repair services!